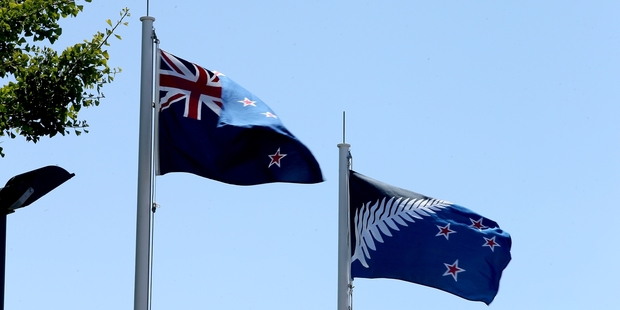 In today's
HOS
this photo appears with the by-line:
It's not over yet, but it looks like the old flag, left, will win out over the new in the upcoming referendum.
A friend gave me a book yesterday called
Who moved my cheese?
which is a little parable about accepting change. After I finished it I thought, I still don't like that damn flag.
I have listened to all the sensible arguments for change yet when I look at the photo above I feel something for the flag on the left that I don't for the flag on the right. So maybe I am letting emotion override logic? How can I have feelings for a set of colours and lines?
I suppose as an
artist
(I allowed myself to think in terms of being an artist when I started to sell paintings and receive commissions and had to describe how I earned income) I live and breathe colours and lines. And when it comes to what I like - which heavily influences what I produce - it's about beauty, harmony and depth. I hate art that merely serves a purpose or expresses some deep-seated anxiety or is invented only to shock.
But it is virtually impossible to describe why certain colours and lines evoke a good emotional response. And I have never wanted to analyse it.
The current flag is far more aesthetically pleasing to me than the alternative.
And that's why I can't change my mind.